And here I am, with yet another American pie recipe, straight from the US, and intended to be the sweet culmination of our Friendsgiving Dinner – an evening of all-American food traditions, from turkey to stuffing to sweet potato mash with marshmellows (yuk). However, as I was assured by my American fellows, one does not make a pumpkin pie without canned pumpkin puree and a proper pie crust. Unfortunately, you can't get either of those in Germany on short notice so we needed plan B! Luckily, J's Mum's care package with Wegman's Pumpkin Puree arrived just in time! However, with a little extra effort, you can make your own pumpkin puree, see below.
Our Friendsgiving was a magnificent feast, but that's another story for another time. Next step: the perfect pie crust. After thorough research and vivid discussion, we settled on a combination of two recipes. Ladies and gentlemen, here it is / the ultimate, super flaky, buttery and tender pie crust that satisfies even the high expectations of my ride-or-die J.
THE RECIPE
Ingredients:
2 1/2 cups of plain flour
1 tsp of salt
6 tbsp of cold butter (German butter has more fat so for 250g of butter you need to add 1 tbsp of cold water if using an American recipe)
3/4 cup of cold sunflower marguerine
1/2 cup of ice cold water
Instructions:
Mix flour and salt. Add butter and marguerine in chopped pieces. Use a fork to mix and mash it all into a coarselz crumblz dough. Carefully add water so that the crumbs clump together slightly. Gently form a ball and divide it into 2 pieces, one for the base and, if baking any other than pumpkin pie, one for the cover. Real pumpkin pie does not have a cover!! That being said, 3/4 of the ingredients should suffice. Make a flat disk and wrap it up in plastic. Chill in the fridge for at least 2 hours.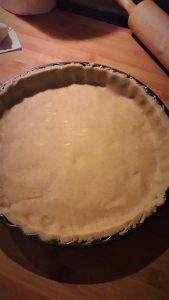 Place some parchment paper on a baking mat. Take the dough and sprinkle some flour on both sides. Carefully roll and press the dough with a rolling pin into a circle a little larger than the pie form's diameter so you have enough dough overlapping for the side crust. The base should be about 1 cm in thickness. Take the parchment paper, put the dough upside down into the pie pan and remove the pater. Smooth out the edges and make it all look nice, neat and tidy. Trim the overlapping bits and pieces. Look up some pie crust folding origami if you're feeling fancy.
Now for the rest of the recipe, just follow the instructions on your pumpkin puree tin. We had Wegman's which gives you the following directions, slightly rephrased and adjusted by me:
Preheat the oven to 350 degrees = 176° Celsius.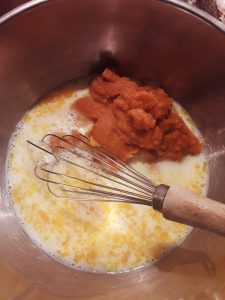 Mix 1 cup of milk, 1 pumpkin puree can and 2 large eggs. In a second bowl, mix 3/4 cup of granulated sugar, 2 tbsp of corn starch, a pinch of salt, 2 tsp of cinnamon and 1 tsp of nutmeg. Afterwards, stir into the pumpkin mixture and then pour it onto the pie base.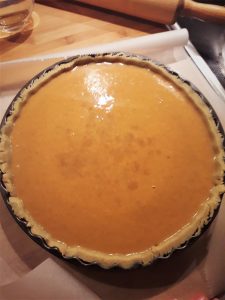 Bake in the oven for 50-55 minutes. Now comes the hard part: let it completely cool down on a pie rack. Do not eat a slice right away. It's difficult, I know. But it tastes so much better the day after. Trust me.
❤❤❤❤❤❤