It's October 31st, and there's reason to celebrate. No, not Halloween. It's my good friend and colleague ACC's birthday. Admittedly, I am going to a Halloween party later tonight and I am dressed up as Eleven (the Doctor, not the Stranger Thing) but birthday treats before the tricky ones. Now my friend ACC is a true Hamburger Perle and far away in the south of Germany in a tiny little town called Freiburg, she misses the steife Nordbrise a lot and not even the Höllentäler can provide some comfort. What she misses even more: Franzbrötchen. Hamburg style cinnamon rolls. Very difficult to get in Freiburg, although Café Auszeit makes quite decent ones as I've just learned.
Since I love baking and sharing my baked goods and especially love sharing my baked goods with the people I love, baking something with love for ACC was the natural thing to do. Since I am very bad at planning ahead when it is personal and not for work, I got the idea the day before, the literal shower thought. So I googled recipes and found an original Original-Hamburg-born-Franzbrötchen recipe. YAY! … that required a pre-dough that would have had to settle for 20 hours before making the main dough with it which would then have to settle for another night and so on and so forth. A quick calculation clearly showed: no way I could finish it in time. Even though I am dressed as a Timelord. Hence I had to improvise: on one of the best dessert food blogs our there, Zucker, Zimt & Liebe I found an alternative for those with little time. As usual, I took the steps more as vague guidelines. Or, as my current alter ego would say:
– How do we do that?
– Oh, I'll think of something.
– You're just making this up as you go along.
– Yep. But I do it brilliantly.
[Doctor Who, Season 28 / 2, Episode 6, The Age of Steel]
And actually, I'm pretty pleased with the results and overwhelmed by the aroma of cinnamon in my flat that promises warmth and cosiness on a wet cold autumn day, ideally paired with a literary journey to Zamonien,
Seriously: If you haven't, read those books. And then read them again. And again. And again. Let the Orm embrace you.
And now congratulations! You made it to the recipe!
Heat up 300 ml milk and 65g butter on the stove. Stir and let it cool to lukewarm. Very important: no chunks! Mix 450g flour of your choice with 1 bag of dried yeast, 60g white sugar and 1 egg. Pour in the butter-milk and knead with your hands until you have a dough that's still gooey but not sticky. Add more flour if necessary. In the end, you might have to flip it around with a wooden spoon before you take it out of the bowl. Then give it a proper beating (baking is good for angermanagement and saves you an expensive therapy session), put it back in the bowl, cover the bowl with cling film and a towel and store it at a warm place. Leave it be and give it time to rise overnight. In the meantime, make some delicious oatmeal cookies with dark chocoate drops and salted caramel milk chocolate drops. Believe me, they are the best!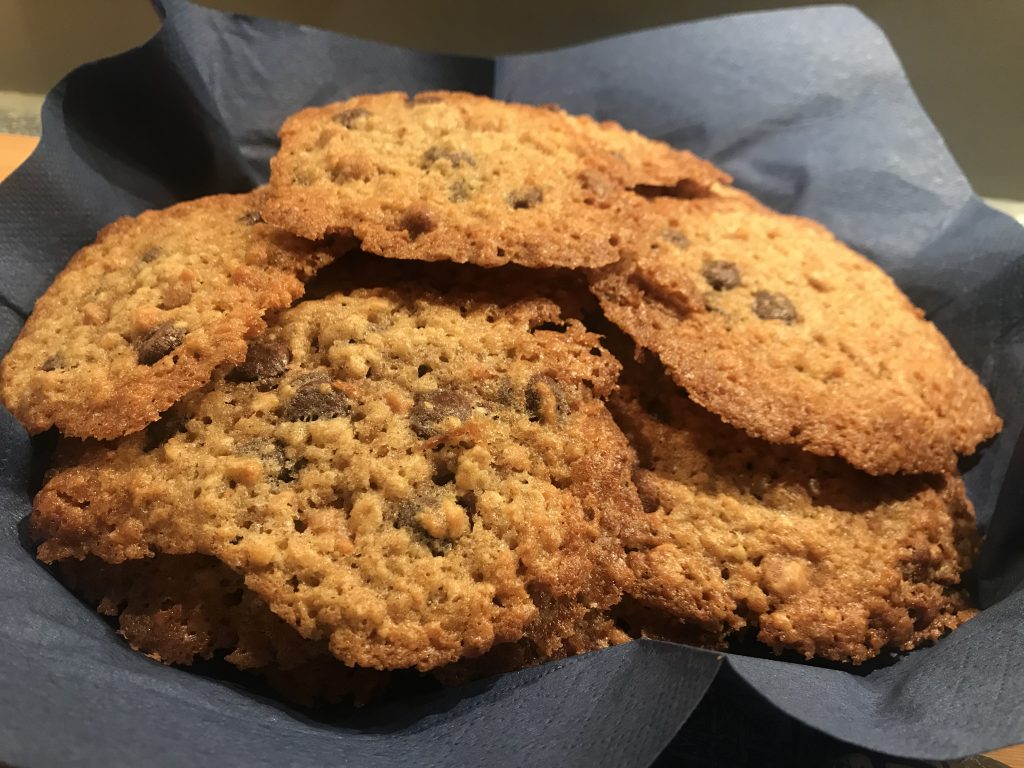 Now that we've successfully cookie monstered and are happily nibbling on one of those monster cookies, let's get back to our real goal. Fast forward to the next morning, we melt 80g butter and whisk in 100g sugar – I used a 50-50 brown-white-ratio – and 3 tsp cinnamon. Take a baking tin, put some parchment paper on it and preheat the oven to 180° Celsius. The dough should have doubled in size by now. Beat it up again. Basically, you could call this step the punch line. Roll out the dough until it is rectangular with a = 50cm and b = 30cm. Sort of. I never measured it but as long as the sides are roughly in that ratio, you're good. Pour over the cinnamon cream and spread it evenly.
Roll the whole thing up tightly from side the longer side and cut yourcinnamon sausage into trapezoidal pieces. It should be 8-10 pieces.
Now flip them over so that the they "sit" on the short end. Set them on a baking tin with lots of space inbetween and use the wrong end of a wooden spoon to gently notch each Franzbrötchen in the middle so that the sides sort of fold over it. Cover the sheet with a kitchen towel and let it rest for another 15-20 minutes. Mix milk and egg yolk and slightly brush it onto the Franzbrötchen. Sprinkle a little more cinnamon on top and bake in the oven for appr. 20 minutes.
Can you already smell it? Mhmhmhm…… soooo good!
Best served fresh from the oven and still warm.
Now tried, tested, and approved by Hamburg's finest export.
Happy birthday, girl!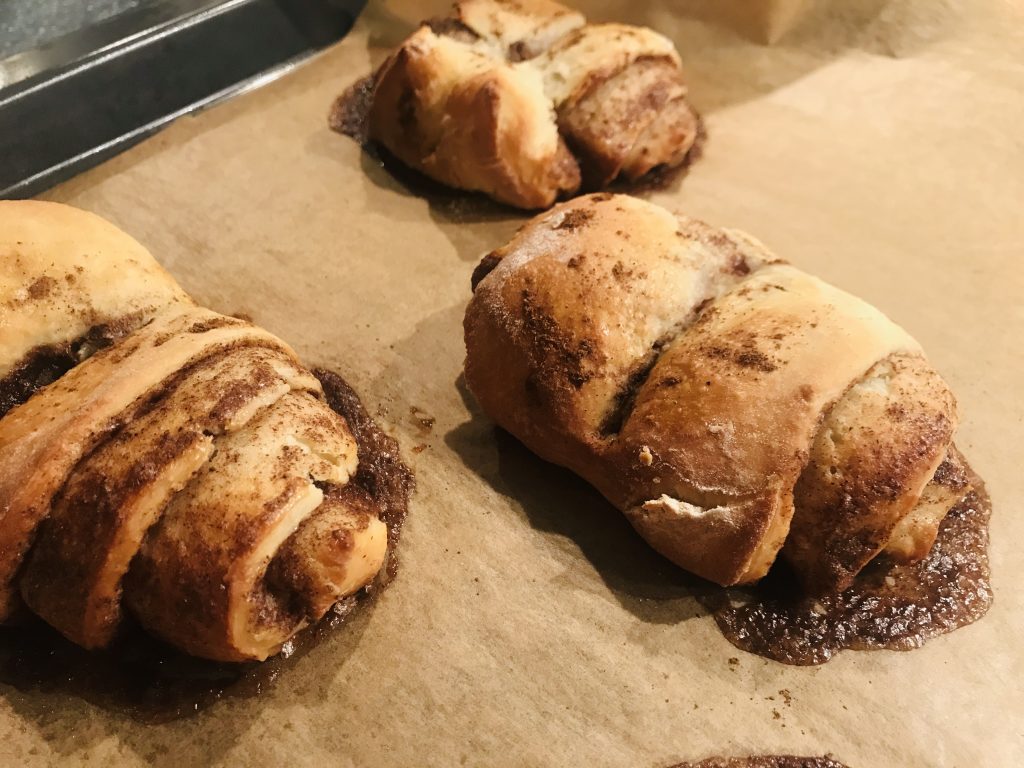 Indulge and enjoy! ♥