That lovely featured image up there was once the famous result of a (serious and scientificially substantiated) Buzzfeed quiz, approved by Winston Churchill and recommended by The Doctor. Later on, I got "as British as Stephen Fry walking Corgies", which is an equally desirable result – Stephen Fry, if you read this, I wanna walk Corgies with you and chat about Wagner like we used to back in 2014. Well, there weren't any Corgies but there was sparkling wine and we met at the opera and did indeed talk about Wagner for a very brief yet memorable moment and I'm sure he remembers it just as well as I do.
Despite the fact that I have lost all the lovely quirks of RP over time (sniff) and nowadays speak a boring, commonplace English full of mistakes, I preserved my love for British baked goods because nothing shouts cosiness like a 5'o'clock tea with sweet treats fresh from the oven. So here are two exquisite and sophisticated contributions for a tea party suitable even for Dame Maggie Smith – Maggie Smith, if you read this, you are most cordially invited anytime. And please bring along your equally witty counterpart Penelope Wilton aka Harriet Jones, (former) Prime Minister (yes, we know who you are) and look forward to some delicious:
LAVENDER SHORTBRAD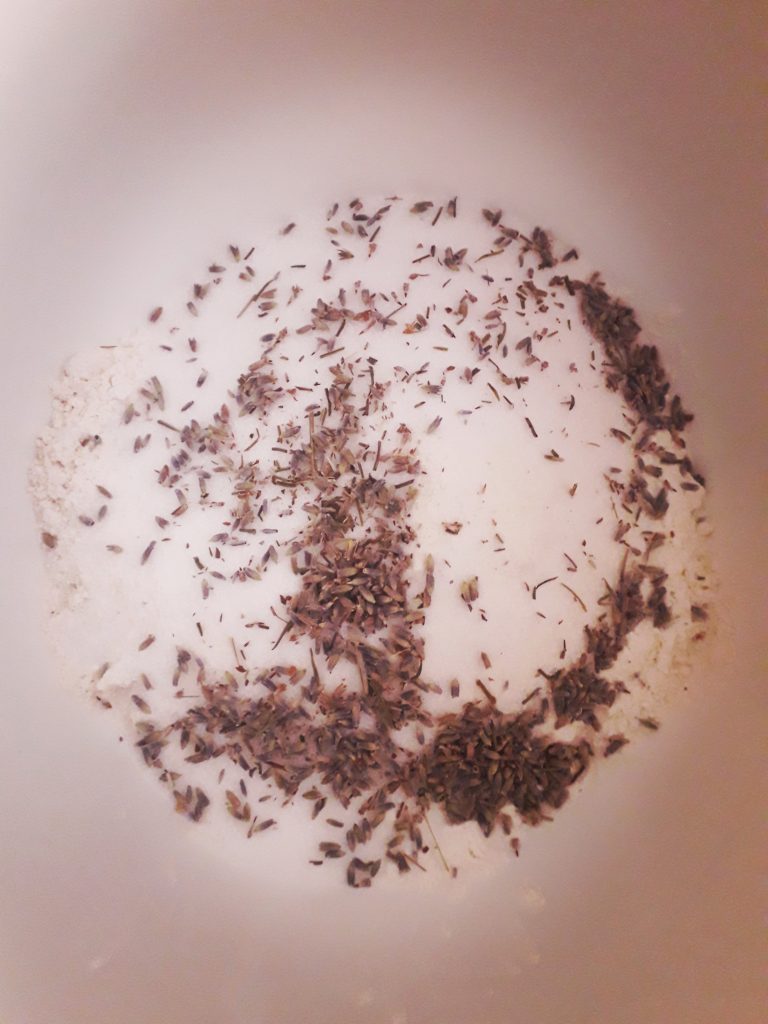 This was my first attempt at shortbread and for someone who loves the crumbly buttery texture and sweet delight of shortbread, I am flabberghasted I waited so long to DIMy! It's so simple!!* You'll need nothing but 175g plain flour, 50g white sugar, more white sugar for sprinkles, 1 teaspoon of dried lavender petals**, and 115g (cold) butter, pre-scliced and -diced. Mix all ingredients in a bowl and shorten the paste, wrap it up in foil and let it chill for an hour. Something I can't do, though dough can do it. Preheat the oven at 180°C. Roll out the by now super chill dough on parchment paper to a height of appr. 1,5cm and make it fair and square. Or more rectangular, see below.
*It is so simple that while writing this, I had to pause here and start making shortbread. It is now in the oven and it smells. So. Fucking. Delicious.*
**I learned the word petals in Don't Starve. Gamer's pro tip: petals make your stranded character happy but they are not very nutritious and bad fuel for your camp fire, too. Also, I love that game.**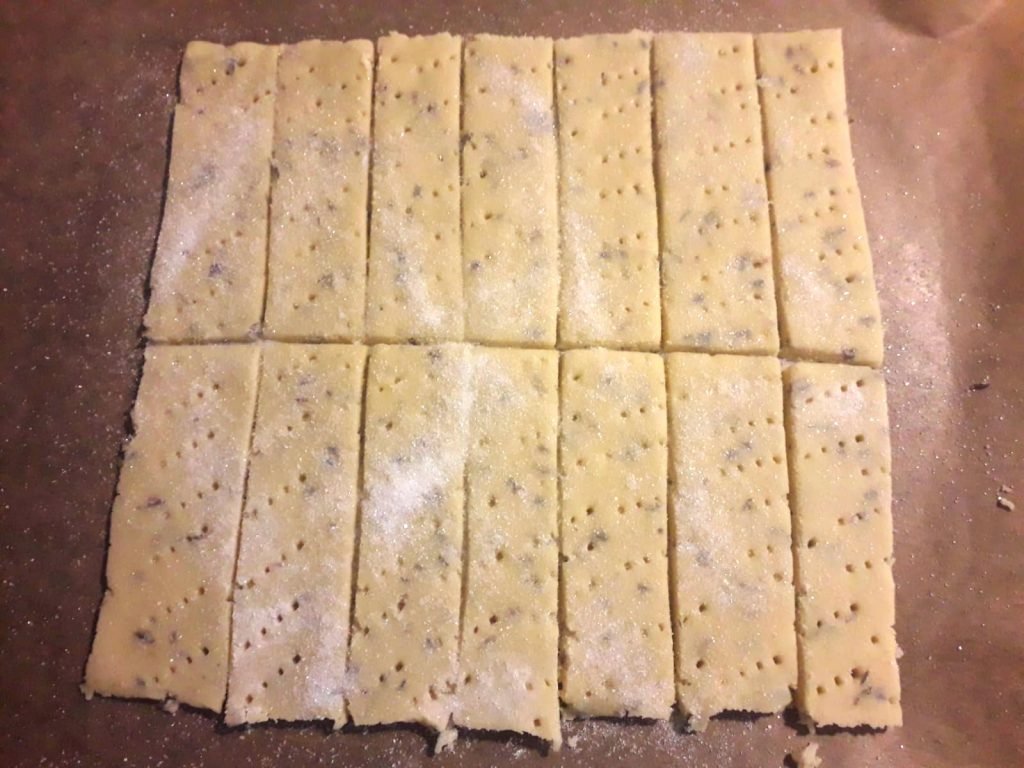 Carefully heave the dough on the parchment paper onto the baking tray. Take a fork, summon all restrained anger in your life and go rogue on the dough and perforate the shit out of it. Then take a knife, be less angry, and slice it up into rectangular shortbread pieces – as can be seen on the picture above. Sprinkle sugar on top of it and bake the short bread for 33-35 long minutes (because the smell is irresistible) in the oven.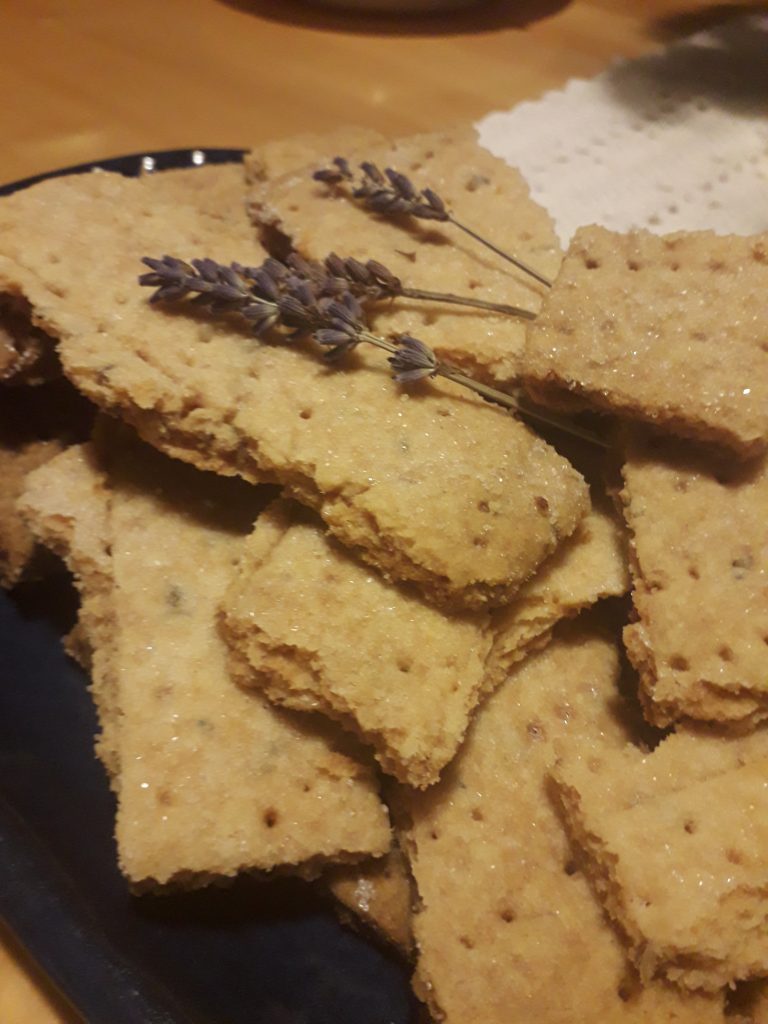 LEMON BARS
If life gives you lemons, make lemon bars! Now that we feel very fairytale and flowery with all that lovely lavender aroma in the air, let's add something sweet and sour to the tea time table and bring some mediterranean flair into the kitchen. They are even easier to make than the lavender shortbread so you'll have no excuse and since several weeks have passed between writing down the lavender recipe and this one, I have fresh lemon bars cooling off right now and yet again, it smells fucking delicious in my flat. You'll need 115g sliced and diced cold butter, 50g white sugar, 175g plain flour to be crumbled and then knead into a dough. Grease a square baking tin and spread the dough all nice and flat and bake in the preheated oven at 180°. Set the timer for 15 minutes. (I now have an iPhone and Siri and isn't it extremely convenient how you can just tell her to set a timer for 15 minutes without figuring out how to clean your hands from dough kneading remnants so you don't flour your phone? So convenient!). While the dough is getting warmed up to become of a super crumbly texture, we whisk up 2 eggs, 115g white sugar (I recommend icing sugar but plain white sugar works fine, too, I guess), 60g crème fraîche, 1 fresh lemon (zest and juice). Warning: if you have a tiny little cut on your thumb, it hurts as hell to grate the zest off because all the lemon drops dripping down onto and into that insignificant wound you forgot about truly sting/ks. Whisk, add 3 tsp of flour, whisk some more and pour the lemony liquid over the pre-baked base and put it back in the oven for another 10-15 minutes, when the liquid has just started to be firm.
Now be patient and let it cool off completely – I know that's the most difficult part – and slice it up into squares or bars or triangles or whatever fancy figure you have in mind. Bite into whichever shape you've chosen and enjoy the crumbliness, the sweetness and the tingling sensation and imagine a cup of Lady Grey to go with it.
And because we can't have a British-themed baking adventure without at least hinting towards the current very unpleasant situation and pending decision, here's the obligatory Brexit joke:
Why does Britain like tea so much? – Because tea leaves.