It's November, the month of ghastly weather: Yesterday, Oct 31st was an unusually golden, sunny, warm autumn day. Today, November 1st it's all wind and rain, a friendly reminder what the next couple of weeks are gonna be like. 
Perfect time to snuggle up, drink tea, and watch the raindrops roll down the windows while an Erik Satie piano piece is playing. Welcome to your YA indie movie. It's the season of long autumn walks in colourful forests, a yellowredorangebrown palette in nature and on our plates: Pumpkins, pears, walnuts. Comfort food to fall for. And due to Covid lockdown #2 in Germany, starting tomorrow, restaurants will be closed for business. Ergo it's once more the time to cook and finally try out all these recipes that are piling up, those torn-out pages from magazines that have been on my to-cook-list forever.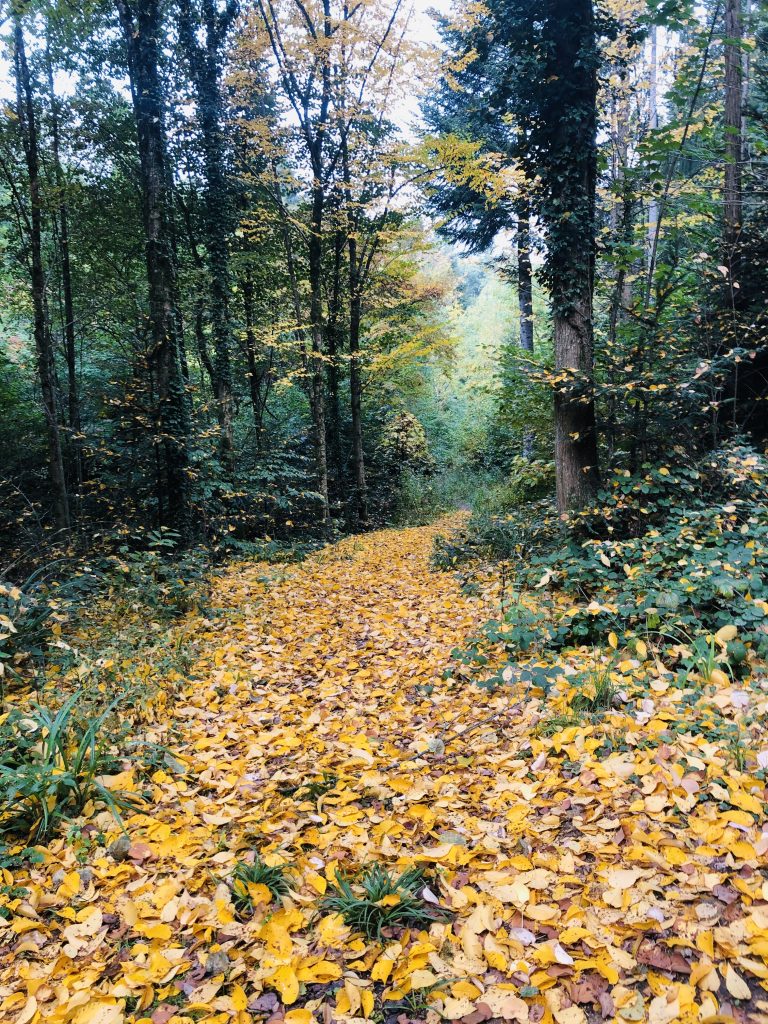 Most of the times, my recipes are successes but of course even I have fuck ups now and then. Just the other week, the one and only (!) Jay-Z aka Johannes Zimmermann came by and we tried vegan sweet potato pancakes. Clear kitchen fail. Great taste but more of a pan-fried unidentifiable mush than pancakes. Well, at least we had a good laugh. And it did taste good. The side veggies, baby spinach sautéed with pine nuts and raisins, however was an absolute winner and I decided to combine it with my next autumn treat:
Pumpkin potato waffles with pear-ginger-chutney
And that one was GOOD so I'm sharing it. For your own interest: Read until the whole recipe before getting started. If you don't, the waffles will be cold by the time the spinach is ready.
For the waffles you'll need 100g grated potatoes, 1 onion, 400g grated hokkaido (no need to peel it first but to remove the seeds), 2 eggs, 2 tbsp starch, 2 tbsp flour, nutmeg, salt and pepper. Mix everything together in a bowl. Take a coated pan, heat up some oil to hot but not full heat and place two big spoons of dough into it and press it down into a flatbread sort of shape. Fry it for a couple of minutes, flip it and repeat on the other side till both sides are golden brown.
The chutney (which is more of a compote but chutney sounds fancier) requires 2 tbsp vinegar and 1 tbsp sugar heated up on the stove. Once the sugar has dissolved and the liquid is boiling, add 4 chopped up pears (as chunky or small as you like it), a girl's thumb sized peace of ginger, peeled and chopped, and lemon zest and juice from half a lemon. Let simmer on low to medium heat for about 20 minutes.
The spinach is basically self-explanatory. As soon as the voluminous pile of leaves has shrunken to a sad green small heap, add a handful of pine nuts and a handful of raisins. Fry and stir. Add some salt and pepper and let the ingredients do the rest.